Bringing Fine Art into Your Life & Home
"Cottage Path"
by Amanda Fish
Oil, $575
Segil Fine Art Annual Summer Show
"Home, Sweet Home"
July 19-August 30
"Mrs. Wilson's Back Yard"
By Linda Brown
11x14, oil
That's not all!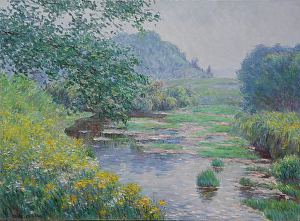 American Beauty
American Impressionism by a Chinese Master
New Paintings by Xugang
August 2-30
Opening Reception, Saturday, August 9, 5-7pm
SEGIL FINE ART GALLERY INFO:
Segil Fine Art Gallery
110 West Lime Avenue
Monrovia, CA 91016
626-358-5563
Gallery Hours: Tuesday-Saturday 1-6pm
Specializing in California & American Plein Air, Figurative & Still Life Paintings by Contemporary Artists.

At Segil Fine Art, we put you together with extraordinary art that speaks to you personally and adds to the story of your life. We look forward to hearing from you, and we welcome you to meet our artists' work online, or in our gallery.